Spring is here, and so is the rain. Now more than ever, it's important to make sure your gutters are in good working condition. Gutters are a vital part of your home's exterior system, protecting your property from the upcoming rains. If you've got clutter in your gutter, here's how to clean it out. 
WHY YOU NEED TO CLEAN YOUR GUTTERS
Gutters safely direct rainwater away from your home's façade and foundation. Your gutter system plays an important role in protecting the structure of your home. Without them, your property is susceptible to leaks, erosion, and other water-related damage. For these reasons, it's important to keep the clutter out of your gutter. Clogged gutters can't properly do their job and put your home at risk. Conversely, a fully-functioning gutter system is one of your home's greatest defenses against the precipitation it will face in the months ahead.
HOW TO CLEAN YOUR GUTTERS
It's important to clean your gutters at least two times a year: once in the spring before the rainy season begins and once in the fall before it begins to snow. To clean your gutters, follow these simple steps:
Wear long sleeves and rubber gloves to protect your hands and arms.
Set up an appropriately sized ladder. You should be able to reach into the gutters while maintaining a stable stance.
Use a plastic hand shovel or scoop to clear the gunk from the gutters.
Tie a large garbage bag to the top rung of your ladder, and use it to collect the gunk.
Flush your gutters using a garden hose to ensure that there are no blockages or leaks.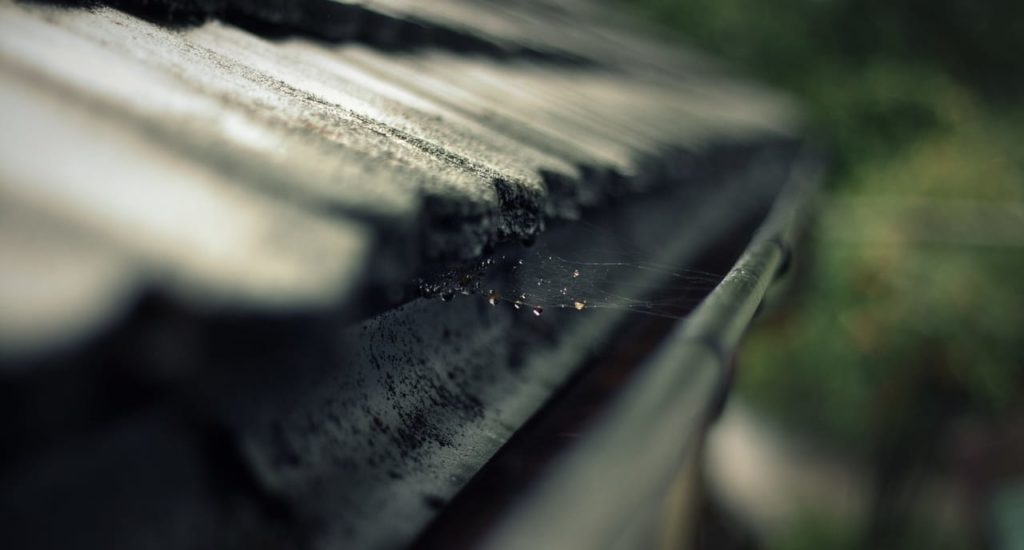 If you are uncomfortable cleaning your gutters, contact us.
WHAT TO DO TO KEEP YOUR GUTTERS CLEAN
In an ideal world, you'd be able to keep your gutters clean year round. To keep your gutters clear of clutter, take these precautions.
TRIM TREES
Leaves, twigs, and other greenery are major gutter offenders. What's worse, your gutters can even become fertile ground for baby tree sprouts. If you're not careful, you can end up with a rooftop garden! To reduce the amount of gunk that ends up in your gutter system, have a professional trim back tree branches that are near the roofline of your home. Do not try to trim tree limbs on your own, especially if they are large or decaying.
INSTALL GUTTER GUARDS
Another way to keep that clutter out of your gutter is to install guards over your system. There are a number of different styles of gutter guards to choose from, and each is designed to keep gunk out while allowing water to pass through as usual.
WORK WITH A PRO
Your gutter system is too important to neglect. If you're concerned that your gutters aren't properly installed or may be defective, contact a local professional. If your gutters aren't working well in the first place, clogging will only make them worse!
If you need professional gutter services, contact our specialists. We know how important your drainage system is, and we have the knowledge and skills to make it work. We can even install seamless gutters that can minimize leaks and blockages to better protect your home. Request a free quote to find out more!