As the reliable gutter cleaning experts, we offer the experience and tools to quickly and safely get rid of any tiger stripes on your gutters. Instead of risking your safety and trying to DIY gutter clean, trust the team at to clean your gutters and keep your feet safely on the ground. Continue reading to learn more about tiger stripes on gutters.
How Do Tiger Stripes on Gutters Form?
Tiger stripes are dark brownish or blackish vertical lines or streaks that appear on the front of the rain gutter. They usually start from the gutter lip and run down the front to the bottom edge of the gutter. Sometimes, these dirt lines can continue down the fascias and siding.  The unsightly lines are most often seen on white or light colored aluminum gutters and can reduce your home's curb appeal.
These striped discolorations form due to dust, dirt, pollen, and mildew buildup on the lip of the gutter. Other pollutants are insecticides, tree sap, and chimney fumes. When moisture from dew, raindrops, or other forms of precipitation combine with the dust, dirt and other debris; a grimy solution forms.
It then slowly trickles down the face of the gutter. This cycle will continue until your gutters are cleaned. Oxidation can also cause the streaks to stain the surface and make them even more difficult to clean.
Is Cleaning Tiger Stripes a DIY Project?
Although tiger stripes themselves may not be deadly, attempting to clean them can be! According to the World Health Organization, falls are the second leading cause of accidental deaths around the world. Falls cause approximately 424,000 deaths and millions of ER visits each year. Did you know:
Falls account for approximately 3/4ths of all roofing industry fatalities
Almost 40% of fatalities in the construction industry back in 2014 were from falls
As a result, Ned Stevens Gutter Cleaning of Long Island suggests you leave the cleaning of gutters and tiger stripes to the pros. We utilize a range of different safety equipment to minimize the likelihood of falls. And we also use a proprietary mix of safe cleaning supplies to quickly clean tiger stripes. We always make sure the cleaner is compatible with the type of gutter you have by conducting a quick test on a small area.
Top Ways to Prevent Tiger Stripes on Your Gutter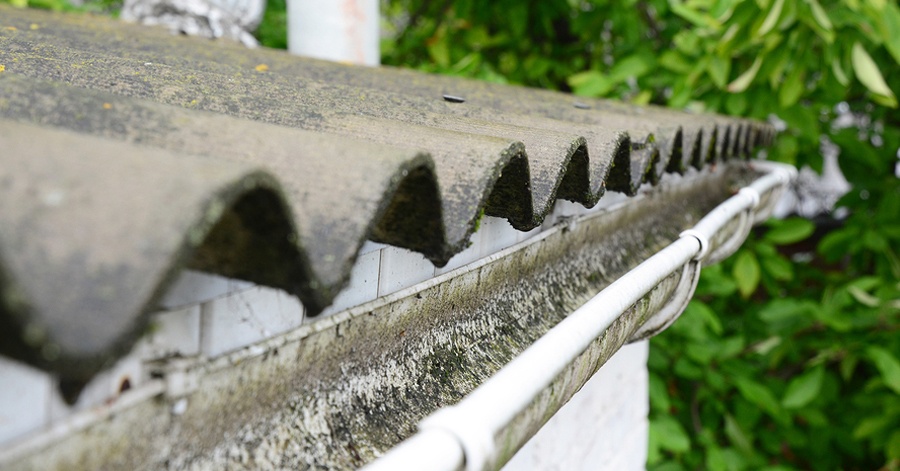 Fortunately, tiger striping is completely preventable! Here are some simple but effective ways to prevent them from forming.
Clean Your Gutters Regularly to Prevent Tiger Stripes
Like several other common gutter problems, you can prevent tiger stripes and more with regular cleaning. In short, all you need to do is regular cleaning and maintenance at least 2 times a year depending on your surroundings and weather patterns. Doing this can significantly reduce or prevent this grimy problem.
Can't remember when it's time to clean your gutters? Ned Stevens Gutter Cleaning of Long Island offers multiple gutter cleaning service contract options where we'll remind you and schedule a convenient appointment to clean your gutters on a regular.
Install Gutter Guards to Prevent Tiger Striping
Some homeowners on Long Island and other cities we serve take an extra step by getting gutter guards installed. Gutter guards are designed to protect your gutters from debris buildup. This includes leaves, twigs, acorns, pine needles, paper, plastic, sand, dirt, dust, and mildew.
The guards also improve the efficiency of water flow through the gutter system. If you don't know how to choose the best gutter protectors for your roof, Ned Stevens Gutter Cleaning of Long Island can help.