Cleaning your gutters should be considered an essential part of routine maintenance for your home, at least if you have a standard sectional gutter system in place without any leaf guard installed.
After all, the efficiency of your home's gutter and drainage system relies on its condition. Things like clogs, ice dams and leaks need to be dealt with as soon as possible, especially if there's a storm on its way.
Gutters are hardly the most glamorous part of a home, but that doesn't mean you can afford to ignore them. However, even if you don't feel particularly motivated to get up on a ladder, there are a few useful cleaning tools that can make the job much easier, quicker and, most importantly, safer.
1. Gutter Cleaning Kit
If your gutters are getting clogged up with dry matter such as leaves, as is likely to be the case during fall, you can use a leaf blower to clear them out. However, you'll need a gutter cleaning kit for maximum effectiveness. Fortunately, they don't cost very much, and they should work with any standard leaf blower to make those otherwise hard-to-reach places much more accessible.
2. Gutter Cleaning Applicator
Clean gutters lend a pleasant finishing touch to your home, boosting its curb appeal in the process. However, if their undersides have become stained and dirty, you'll need to find a way to wipe them clean. Fortunately, with a gutter cleaning applicator, you shouldn't even need to get up on the ladder. These specialized mops are designed to fit around the exterior side of the gutter while being used from the ground.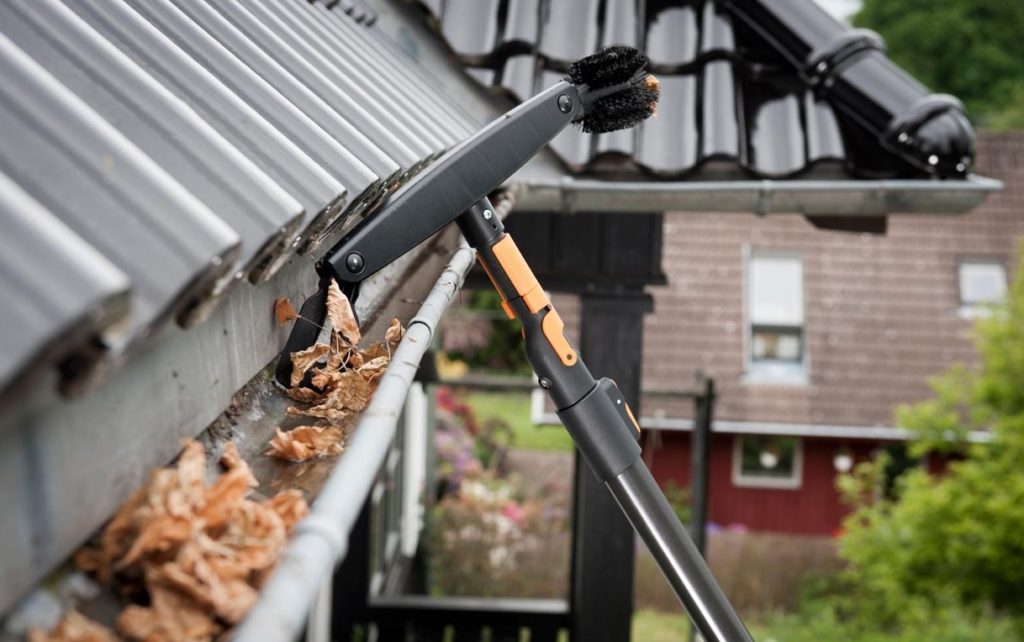 3. Gutter Flusher and Cleaner
The most common way to clean out clogged gutters, particularly when getting rid of mossy build-ups and ice dams, is to use a hose. However, using a hose while perching on the top of a ladder is not very comfortable. Instead, you can use a specialized hose connection, which will allow you to clean the gutter without trying to work on a ladder at awkward angles.
4. Gutter Brush
Sometimes, gutter systems need a more thorough cleaning, in which case a specialized brush will come in handy. These work a bit like traditional pipe cleaners, allowing them to bend around corners and fit practically all gutter sizes, including non-standard designs. They're also available in various different lengths, and installing and using them requires no special tools or skills.